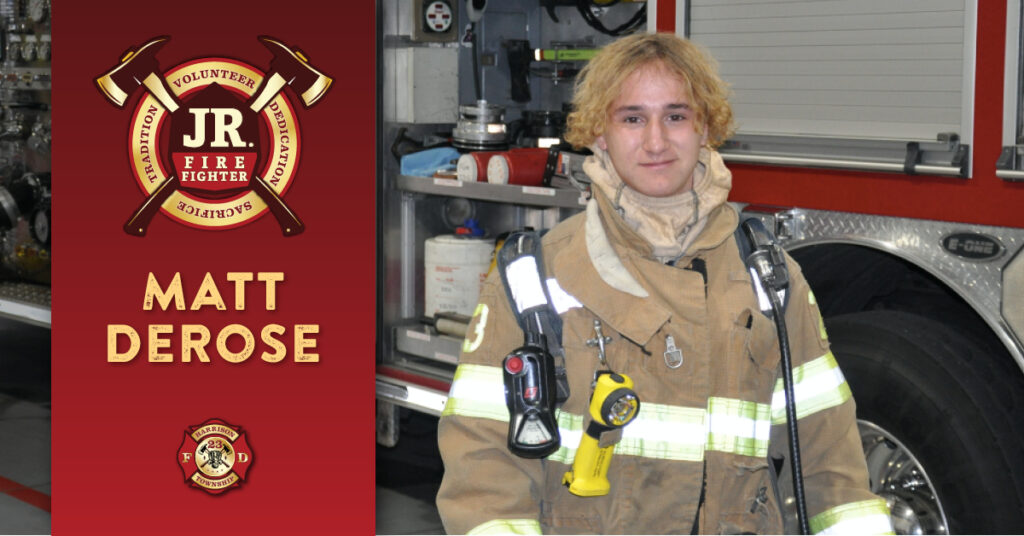 Growing up most kids are always making "crazy" statements about what they want to be when they get older. For some it is a pro athlete or an actor, or a fireman. Well for 16-year-old Matt DeRose, waiting any longer to be a fireman is not necessary. Despite his young age, Matt has displayed a remarkable level of commitment and enthusiasm that has immediately made him a welcome addition to the Hometown Hero Team.
Chief Matt Cardile was full of praise for the junior firefighter, stating, "He has an energy and attitude that's simply amazing. You don't find this in the average 16-year-old." Matt's passion for firefighting started in the 4th grade and he jumped at the opportunity to join HTFD23 as soon as he became eligible.
"I'm just excited to be part of the department and to get this much hands-on experience at this point in my life," Matt stated. "From the start everyone has been so supportive and really made me feel part of the team."
Over the past four months, Matt has had the chance to experience the heroism of the department firsthand, responding to several calls for service. In addition to his firefighting duties, Matt also takes an active role in community events, lending his youthful spirit and energy to activities like Lights on Main, Santa's sleigh rides, and the new VIP experience program.
When he is not working and learning at the HTFD23, Matt can be found playing guitar, performing concerts with his band, surfing in the summer, and going to the gym to stay in shape. And of course, there is high school to complete as well. His favorite subject? English. Did we mention Matt is not your typical 16-year-old?
As for his future, Matt has big plans. He hopes to attend the University of Delaware to study disaster management and eventually become the Fire Chief in Ocean City. He is excited to be part of the HTFD23 and hopes to inspire other young people to follow in his footsteps. "Being a Hometown Hero is a unique opportunity," Matt says. "I'm just thrilled to be here and part of this team that serves the community."