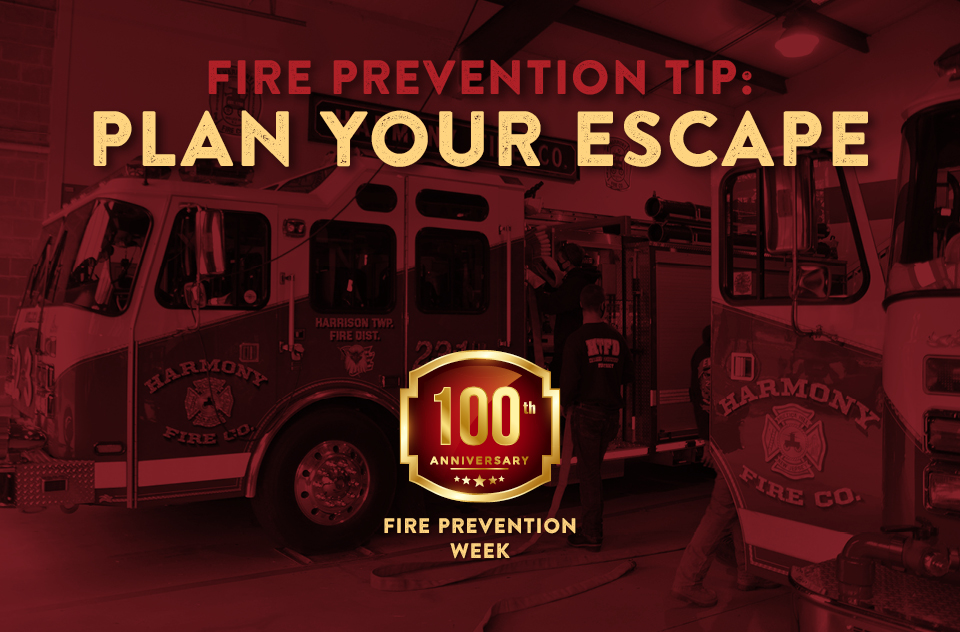 As the temperatures cool down and the Eagles and Phillies heat up – we know Fall Season is upon us. Another Fall effort in October is Fire Prevention. While our team at HTFD23 observes fire prevention the entire year, the official Fire Prevention Week is observed each year during the week of October 9th in commemoration of the Great Chicago Fire of 1871. In 1922 President Coolidge proclaimed Fire Prevention Week a national observance, making it the longest running public health observance in our country.
This year is the 100th Anniversary of Fire Prevention week and this month your Hometown Heroes will be visiting daycare programs, Harrison Elementary School, and Pleasant Valley School to discuss fire safety, hand out information and of course show off the fire trucks.
Each year the National Fire Protection Association sets a theme, this year is "Fire won't wait, Plan your escape."
Home fire escape planning and practicing is extremely important to the safety of your loved ones. Everyone needs to be prepared in advance, so that they know what to do when the smoke alarm sounds. Every home is different, so every plan will be different. The plan must account for everyone, children, older adults, and people with disabilities that may need assistance to wake up and get out. Have the discussion and create a plan.
Here are some tips on how to create a plan for your home:
Draw a map of your home. Show all doors and windows.
Visit each room. Find two ways out.
All windows and doors should open easily.
You should be able to use them to get outside.
Make sure your home has smoke alarms. Push the test button to make sure each alarm is working.
Pick a meeting place outside. It should be in front of your home. Everyone will meet at the meeting place.
Make sure your house or building number can be seen from the street.
Talk about your plan with everyone in your home.
Make sure everyone in your home knows how to dial 911 or your local emergency number.
Practice your home fire drill.
For more tips and information, you can visit www.nfpa.org.