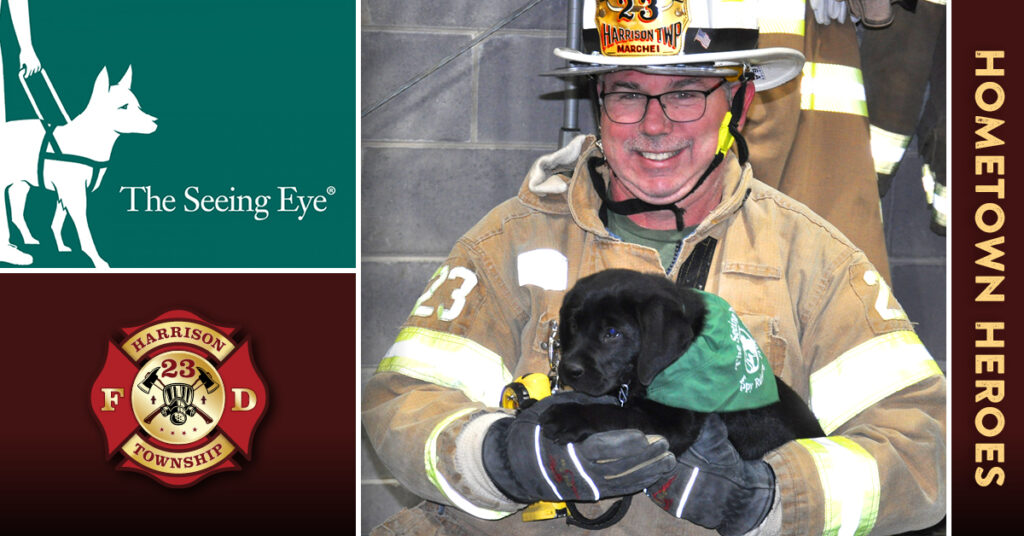 HOMETOWN HEROES ANNOUNCE PARTNERSHIP WITH SEEING EYE
New Alliance Provides Additional Support and Experience for Service Dogs in Training
April 2023 Mullica Hill, New Jersey – Giving back and serving the Harrison Township community is part of the mission and purpose for the HTFD23 Hometown Heroes. So, when local resident and Seeing Eye Puppy Club Leader for Gloucester County Nancy Mittleman asked for support to help socialize several service dogs in training, the answer was an immediate "yes" from Chief Matt Cardile. From there the two identified that partnering on some new initiatives would be beneficial for both groups.
"Nancy and the team at Seeing Eye do so much work to prepare the dogs to assist visually impaired individuals," explained Chief Cardile. "It is great that our team can play a positive role in the training and of course we all love the dogs!"
Knowing the dogs must be prepared for all types of situations, the firehouse serves as a great way for the puppies in training to experience the sights, sounds and smells of firemen and the trucks. The puppies, and their handlers/trainers, get a semi-VIP experience!
"It really is great to have this resource for us to work with right here in Mullica Hill," stated Mittleman. "Chief and the team are really helpful is exposing the puppies to everything related to the firehouse and we are excited to partner with them on some additional opportunities in the community."
Two of those opportunities are coming up over the next six weeks with the Seeing Eye team joining the Hometown Heroes at the May 13th Asparagus/Arts Festival and on June 3rd for Harrison Township Day. Some of the puppies will be at the firehouse as part of the HTFD23 festivities. Residents and visitors to Main Street are encouraged to stop by and meet the Hometown Heroes and the 4-legged heroes in training. Of course, there is the option to enter to win a HTFD23 VIP Experience as well both days.
"We are excited to be able to spend some additional time at the firehouse and be part of the community event," shared Mittleman. "Another great opportunity for the puppies and also for the community to learn a bit more about what we do at Seeing Eye."
For more information about HTFD-23, go to JoinHTFD23.com. Additional information about Seeing Eye can be found at SeeingEye.org.